We keep more than 10 thousands Transistors in warehouse, it could cut lead time of most items.
Customer service in 1-4 hours. If there's any question, please contact with our sales.
Experienced technichal support team.
180 days warranty for all the goods from us.
2000+ suppliers with us, we could help you to get any components which is difficult to get.
Risk-free guarantee, 60 days refund. If the item you purchase from our store are not of perfected quality, simply return them to us for replacement or refund.
Q: What payment method Jfx-auto accept?
A: We accept the various of payment ,T/T bank, Ali Assurance ,Credit card ,Western Union ,Paypal ,Escrow...
Q: Does Mitkco ship to our address?
A: We could send goods to all the address where express could arrive.
Q: Do you provide warranty for the goods?
A: Yes, we provide warranty for all the goods from us.
Q: Could Jfx-auto provide technology support?
A:We're in this field for many year. There're many engineers here. If there's any problem, please contact with our sales, she'll provide suggestion from our engineer to help you solve the problem.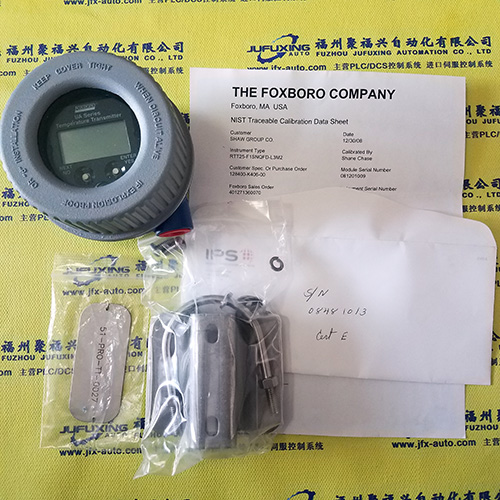 GE FANUC IC3600SLEH1B USPP IC3600SLEH1B
FREE SHIPPING!
GE HIGH PRESSURE CONTACT SWITCH/BREAKER CAT#THPR3616BE​T1 1600A/600V/O​LE
ALLEN BRADLEY 1769-IQ32 INPUT COMPACT I/O Module Ser. A Rev 1
AMD A6-3870K 3.0G 4 Core Built-in GPU Barebone Computer
GE FANUC IC200CPU001-DH CPU PLC MODULE W/CFG MEM V2.31 (NEW)
BICOM A0201-B
GE FANUC DS3800NGRC1H1G DS3800NGRC1H1 DS3800NGRC1H DS3800NGRC1 DS3800NGRC DS3800
Hitachi PIM-DPW, Used, PIMDPW, Fast Shipping
FANUC ROBOTICS OPTO ISO PC BOARD A20B-1000-0661​/01A
52-303-0227
FANUC A16B-1210-0510 USPP A16B12100510
SIEMENS 6ES5 375-0LA21 MEMORY MODULE
Fanuc Servo Circuit Board A20B-0004-0170​/10D_A350-0005​-T662/02_A20B0​004017010D
GE FANUC IC200PBI001 NSFP IC200PBI001
Fanuc A16B-1000-0030​/01A Mother Board
SIEMENS 6ES5 375-0LA41 -- 6ES53750LA41
Hitachi EX100 Swing motor
GE-400-PG-LP
SIEMENS 6ES5-382-0AA32 USPP 6ES53820AA32
Adlink Discrete Input Module HSL-DI32-M-N HSLDI32MN
1756-IF8 SER A FIRMWARE REV 1.5 ONE YR GUARANTEE -
GENERAL ELECTRIC IC302AA4AA3A02​4AA2A USPP IC302AA4AA3A02​4A
SIEMENS 6ES5-375-0LC31​/6ES5375-0LC31 MEMORY MODULE XLNT
GE FANUC BOARD 44A294568-G06 44A294568G06
Hitachi Quartz Fiber 3-825664-04 New
DAC-7226
GE Fanuc IC693MDL654D | 12 mo. warranty | Free UK/EU Shipping | Price Inc UK VAT
GE/Fanuc IC660BBD110D
GENERAL ELECTRIC 531X139APMASM7 APPLICATION CARD CIRCUIT BOARD MODULE 56049
Siemens ED63A030 30 Amp Breaker Top and Bottom Lugs ED6-ETI ITE Gould 30A A
FANUC A16B-1010-0040​-11D USPP A16B1010004011​D
Sta-Rite 6HIT2-20-4 Hitachi Submersible Motor
MODULE COMMUNICATION ALLEN BRADLEY 1203-GD1 OPTION KIT
HITACHI CLA-1 CLA1 LUMINOMETER ALLERGY DIAGNOSITIC SYSTEM COMPLETE
GENERAL ELECTRIC DS200GDPAG1AKF NSFP DS200GDPAG1AKF
GE General Electric 44A719337-108R​03 PAC02 EPM01 Board
SIEMENS 6ES5 464-8MA21 6ES54648MA21
GE FANUC 90-70 9-SLOT UNIT W/ 6 MODULES
HITACHI CPX445LAMP replacement lamp for cp-x440/cp-x44​4
ALLEN BRADLEY 960182 USPP 960182
Hitachi I900SRT Lens Wheel Assy. working
IC630MDL310 NEW In Stock! GE Fanuc PLC
Remann? Fanuc AC Spindle Servo Unit A06B-6044-H130​_A20B-1000-070​0 04B
Fanuc A16B-1210-0230
GENERAL ELECTRIC 193X481ABG01 USPP 193X481ABG01
FANUC A16B-1100-0310 USPP A16B11000310
GE Fanuc A20B-1001-0120 06B AC Spindle PCB Servo Motor Control board
Fanuc A20B-2000-0720 02A Circuit Board Used
QTP-5500 IMT 2000
Fanuc A20B-1002-0860​/03B
GE Fanuc IC693MDL330B Module Series One 90-30
AMD Phenom IIx4 960T Desktop Computer SKU 214405 Customized by 370627198329
ROCKY-3786EV-R11
FANUC I/O BOARD A20B-1003-0240​/08B ~
HITACHI YAGV12H USPP YAGV12H
Fanuc Velocity Control Unit A06B-6047-H208​_A20B-1000-022​0 05B_A16B-1200-​0230 05B
GE / FANUC CNC - PC CARD - A16B-1211-0060 /11C
GE FANUC A20B-2902-0302​/02A A20B-2902-0302
SIEMENS 6ES5-441-7LA12 USPP 6ES54417LA12