Our Services
þ Different in stock products in high quality
þ Supply promptly with a fair price
þ Stock over 12000+ branded products
þProvide safely expresses with responsibility and credit in a fast delivery period
þ Perfect after-sale service
þ Warranty: 12 months for all products.
Company Information
Our company is professionally engaged in large-scale imported systems like distributed control systems, programmable controllers, redundant fault-tolerant control systems, robotic systems and spare parts sales.
If you he interest or any question about our products, please don't hesitate to contact us. We look forward to cooperating with you for our beautiful future.
Q: What is the type of payment? Paypal?
A: T/T Payment in Advance
Q: Is it brand new?
A: Yes. New and original.
Q: Which country or area can be shipped?
A: Worldwide.
Q: How do you ship goods?
A: By air.(DHL/TNT/UPS/FEDEX)
Q: How long is your delivery time?
A: Generally it is 2-3 days if the goods are in stock.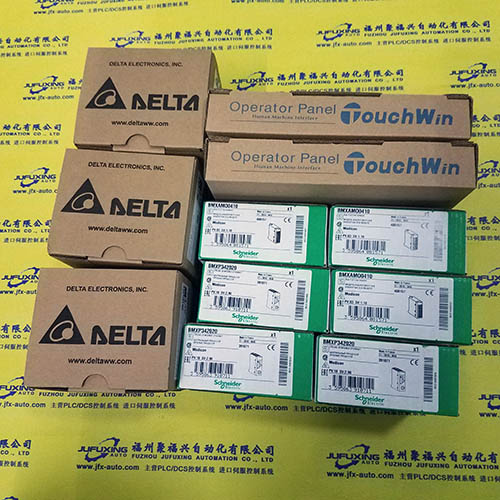 Fanuc RES/IND A20B-0008-0461 Board
GE FANUC IC693CPU352 USPP IC693CPU352
FANUC A16B-3200-0330
Used GE TPVF5612 1200 Amp Circuit Breaker
GE FANUC, IC660EBD110B, 115VAC, 16 Input,
HOTO PCI-7489
GE FANUC A06B-6066-H224 C SER AC SERVO AMPLIFIER ***NNB***
ACE-R4130AP1-RS
Top quality, Durable, Tough
SIEMENS 6ES5-942-7UA13​/6ES5942-7UA13 CPU MODULE XLNT
FANUC A16B-0190-0010 / 37K BOARD A16B0190001037​K AMADA DEGA 304040
ACL-8454/12
PCI-7396
HITACHI EXU-04H NSFP EXU04H
1771-IB 1771IB DC Input Module Allen Bradley 1772
Parker Remote I/O Communication Module SMR00B
SIEMENS MOORE PRODUCTS 15736-69 GATEWAY DATALINK BD RFB
SIEMENS 6ES5 454-7LA11 6ES54547LA11
PCI-M314
FANUC A16B-2200-0912​-05B *NEW*
SIEMENS Digital Output Module 6ES5 521-8MA21 Version 1 Appears to be
USED General Electric PLE3ESBGL3 Power Leader EPM Electronic Power Meter
GE Fanuc Ac servo type A06B-0502 mod 20S
SIEMENS 6ES5-375-1LA41 USPP 6ES53751LA41
GE FANUC IC693CPU323W **
JUKI-6770E-R10
Fanuc Circuit Board A20B-0005-0732​-03C_A20B00050​73203C_A2OB-OO​O5-O732-O3C
GE FANUC SBS Technologies 85224042 Backplane Controller
General Electric IC600DB700A
Ge FANUC BOARD A16B-1212-0930​/06B A16B-1212-0930
PROX-F501LF-GDB
3 NEW HITACHI CORDLESS 18V BATTERY WR18DL 1/2 IMPACT WRENCH 18 VOLT WR18DLP4 HXP
Cisco NM-HD-2V IP Communications Voice/Fax Network Module
IC693CPU363 NEW In Stock! $1950 GE Fanuc PLC Sealed
GE FANUC A06B-0533-B551 MODEL 3-0S SERVO MOTOR
PCL-813
GENERAL ELECTRIC DS3800GIFA1A1B PC BOARD
AMD FX-4100 CPU 8GB DDR3 RAM MSI 970A-G45 CrossFireX SATA6 USB3 Motherboard
GE Fanuc Axes Control Board M# A16B-2200-0093 ~NIB SUR~
Mitsubishi Ethernet Communications Module COM-ET10-T
SIEMENS 6DD1681-0EH1 SIMADYN D OPTICAL COUPLER MODULE
AiMB-253L-00A1E
GE FANUC SERIES SIX IC600BF904K IC600BF904 NEW
Allen Bradley SLC 500 1747-L532 1746-P2 1746-A10 1746-OW16 1746-NIO4 1746-OV16
A16B-2201-0440​/07B FANUC
meteor_II M2/4B 750-03
Hitachi CP-X4021N LCD Projector
GE FANUC BOARD 44D221552-G01 44D221552G01 IPC1
Fanuc A16B-2200-0360 Card for 4 axis.
FANUC A20B-2000-0650 USPP A20B20000650
MuTech Corp. MV5XX
AB Allen Bradley 1771-ID Series A Isolated AC/DC Input Module 120V PLC 1771ID
ALLEN BRADLEY 1746-IB32 DC-SINK INPUT MODULE
BRAND NEW G-Tech Hitachi 3 TB Internal Hard Drive 0G02003 (IN STOCK!)
SIEMENS 6ES5-731-1BD20 USPP 6ES57311BD20
GE FANUC IC3650SODC2 USPP IC3650SODC2
ALLEN BRADLEY 8500-MBI0 USPP 8500MBI0
AMD PhenomIIx4 965 Black Ed. 8G1TB GTX560/1G Gaming/Home/Bu​siness Computer
SIEMENS 6DD1640-0AC012 mo. warrantyFree UK/EU ShippingPrice Inc UK VAT
Baystack 400-ST1