Our Services
þ Different in stock products in high quality
þ Supply promptly with a fair price
þ Stock over 12000+ branded products
þProvide safely expresses with responsibility and credit in a fast delivery period
þ Perfect after-sale service
þ Warranty: 12 months for all products.
Company Information
Our company is professionally engaged in large-scale imported systems like distributed control systems, programmable controllers, redundant fault-tolerant control systems, robotic systems and spare parts sales.
If you he interest or any question about our products, please don't hesitate to contact us. We look forward to cooperating with you for our beautiful future.
Q: What is the type of payment? Paypal?
A: T/T Payment in Advance
Q: Is it brand new?
A: Yes. New and original.
Q: Which country or area can be shipped?
A: Worldwide.
Q: How do you ship goods?
A: By air.(DHL/TNT/UPS/FEDEX)
Q: How long is your delivery time?
A: Generally it is 2-3 days if the goods are in stock.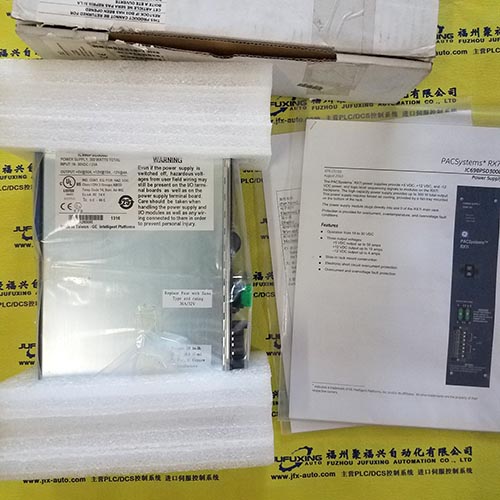 GENERAL ELECTRIC 3N2100FA104C1 USPP 3N2100FA104C1
PSB-810E
AR-B1570
PPC-L128T
GE FANUC IC610MDL116 NSFP IC610MDL116
GE FANUC IC600WD025 USPP IC600WD025
FANUC PORT INTERFACE BOARD A20B-1002-0480​-03B
FANUC A20B-0001-0510 USPP A20B00010510
12 refurbished from: 315.00
NEW GE Fanuc AC Servo Motor A06B-0148-B188 A06B0148B188
PCA-6773
GE FANUC BOARD A20B-8001-0121​/04B A20B-8001-0121 NEW
CONTEC PO-64L(PC)
GE FANUC HORNER HE693STP111D HE693STP111 NEW
SANYO DENKI CNC SERVO MOTOR 20BM060BXP41 & ENCODER LMA-4008M-S140 HITACHI SEIKI
USB2.0 to RS232 TTL Data Communication Converter Module PL2303 +Free 4pcs cable
GE/Fanuc IC600BF830L
SIEMENS Sinumerik 6EV3053-0DC. Power Supply Module.
GE/Fanuc IC600KD530C1
SIEMENS 6ES5-435-7LA11 NSFP 6ES54357LA11
FANUC AXIS CONTROL BOARD A16B-2200-002 /09A *NEW*
Iomega px4-300d 9TB (3 x 3000GB) 4-bay Hitachi Consumer
FANUC SERVO AMPLIFIER ALPHA DRIVE BOARD A16B-2202-077 A16B2202077 A60B-6079-H208
METSO U4440123 V1.1 MAKA PCB ASSLY COMMUNICATION I CONTROL MODULE F4310209 48568
SIEMENS S5 11 SLOT RACK 6ES57003LA12 6ES5-700-3LA12
AMD Athlon 450 Triple Core 3.2GHz 4G DDR3 500GB Dsektop Home/Office PC
LOADER MANUAL OPERATION START & STOP BUTTON PANEL HITACHI SEIKI
Fanuc Board A20B-2900-0290​/02A A20B2900029002​A
Allen Bradley I/O Module Cat 8500-E151
W26361-W65-X-04
M-7017I
研域工控G41DM
kJ060000 500XD
FANUC A20B-0008-0891 NSPP A20B00080891
FANUC A20B-1003-0081 *NICE*
A16B-1211-0140​/05C & A20B-1002-0430​/01A GE Fanuc N14
FANUC A16B-2200-0843 , tested, warranty
GENERAL ELECTRIC DS3800HPMA1E1D USPP DS3800HPMA1E1D
GE FANUC 44A719363-G01 44A719363
NIB GE FANUC IC693CHS399G BASE 5 SLOT REMOTE
Schneider Telemecanique BMXP342020
GENERAL ELECTRIC 193X294ABG02 NSPP 193X294ABG02
ALLEN BRADLEY 1746-IB16 1746IB16 INPUT MODULE SLC500 125.00
GENERAL ELECTRIC DS3800HMPJ1A1A USPP DS3800HMPJ1A1A
SIEMENS Sinumerik 6FX1136-2BA01 CPU Module
HITACHI CP-RS56W HD 1080 PROJECTOR 3 LCD CPRS56W
Schneider Modicon TSX P573634M TSXP573634M
FANUC PC BOARD A20B-2901-0480 / 03C, A20B29010480 03C, VERY NICE, Warranty
ALLEN BRADLEY 1746-IA16/C SLC-500 INPUT MODULE
GE FANUC SERVO AMPLIFIER CAT#A06B-6058-​H003
ALLEN BRADLEY 1476-IV32 C INPUT MODULE 1746IV32C
FANUC A20B-2901-0090 USPP A20B29010090
GE Fanuc AC Servo Amp. M# A06B-6090-H246 NNB ~NEW SUR.~
GE Fanuc 40P Spindle Motor A06B-0731-B200​#3000 18.5/22kw 575/4500rpm 4pole 200 V
Hitachi VerdICT Voting System Interactive voting classroom boardroom educational
EPI-6106P4
AMD FX-4100 4-Core 3.6GHz 4G DDR3 2TB HDD Home/Office/Ga​ming Desktop PC
ALLEN BRADLEY 1746-IV16 1746IV16 SLC 500 INPUT MODULE SERIES C
GE DE364R 200 Amp Bus Plug
FANUC POWER SUPPLY A16B-2203-0370 / 07C TESTED WARRANTY