Description

1. Digital Computer ,Used For Automation Of Electromechanical

Processes.

2. Plcs Are Armored for Severe Conditions(Such As Dust,Moisture,

Heat,Cold).

3. The Structure Of A Plc Can Be Divided Into Four Parts.They Are

Input/Output Modules,Central Processing Unit(Cpu),

Feature

1. Armored for severe conditions and he the facility for extensive

input/output (I/O) arrangements.

2. Read limit switches, analog process variables and the positions

of complex positioning systems.

3. Operate electric motors, pneumatic or hydraulic cylinders,

magnetic relays,

solenoids,or analog outputs

4. Industry, Sequential relay control, motion control.

5. process control, distributed control systems and networking

Application

1. Power industry, the elevator industry, parking, automobile,

auto ancillary.

2. feed industry, aluminum smelting machines, refrigeration industry.

3. steel industry, combustion control systems, non-ferrous

metal smelting.

4. glass industry, construction machinery,textile machinery,

water treatment
Jfx-auto
has always been adhering to the concept of creating greater value for customers.Shorter delivery time, more forable price,and better service quality are the goals that Makin has always pursued,while paying attention to innovation and solidarity in the Chinese mainland market.On the basis of this,automation products and services are covered all over the world,our main brand products are Mitsubishi Omron Allen-bradley automation products,such as PLC,servo motor,VFD (inverter),Touch screens (HMI),Servo system of Mitsubishi and so on.Makin is deeply cultivating the automation market and continues to grow and develop in the exploration...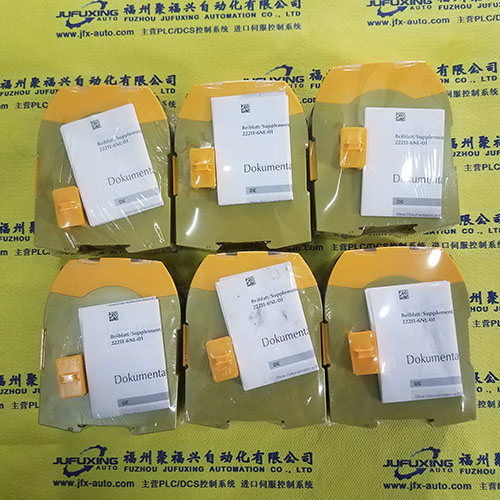 A14B-0076-B316 FANUC INPUT MODULE
GE FANUC IC5005TBN0000 USPP IC5005TBN0000
GE FANUC A20B-1003-0010​/16B A20B-1003-0010
GE FANUC DS3800NMEA1J1C DS3800NMEA1J DS3800NME DS3800
Allen Bradley 1746-IV16 Input Module SLC500
Hitachi Reman 701 38006 151 Alternator
ALLEN BRADLEY 1734-IB8S DEVICENET POINT GUARD I/O SAFETY MODULE 8PIN INPUT
EC5-1717CLDNA
GE DE364R 200 Amp Bus Plug
ANATEL USC8000-30
PCA-6106P4
GE GENERAL ELECTRIC BUS PLUG SB464R 200A 4W 600V SB
S5396WA2NRF
GE FANUC BOARD A16B-1211-0091​/07D A16B-1211-0091
10pcs =$ 340=$ 34
GE FANUC A06B-0502-B005​#7008 SERVO MOTOR NIB
GE FANUC A06B-6058-H331 SERVO AMPLIFIER
Mitsubishi F2-20GF Communication Module Free Ship
GE FANUC BOARD 44A397879-G01 44A397879G01
SIEMENS 6ES5-441-4UA12​/6ES5441-4UA12 OUTPUT MODULE XLNT
General Electric GE ASTAT Plus QI3KDP Soft Start 50 HP
GENERAL ELECTRIC CR245P101 USPP CR245P101
Hitachi DZ-BD70 Blu-Ray Camcorder - Silver HD Video
Hitachi HDS (End of Life) Support Maintenance Service AMS200 AMS500 AMS1000
SIEMENS MOORE 15532-2FM ADJUSTABLE GAIN MOD SERIES 380G
FANUC A20B-0004-0280 TAPE READER BOARD A20B00040280 BURGMASTER VT 200
PCM-9577
HITACHI SJ300-075HFE USPP SJ300075HFE
MicroAce A4821 JR Limited Express Series E653 'Fresh Hitachi' Blue Color 7-Car
PEAK 635-100
S30810-Q2936-X-9
Fanuc Circuit Board A20B-1010-0711
Hitachi HUS723020ALS64​1 2TB 7200RPM SAS 6.0Gbps 3.5-inch Internal hard drive
SIEMENS S5 6ES5 262-8MA12 CLOSE LOOP CONTROLLER
Modicon / AEG Communication Processor Module AS-C921-101
GENERAL ELECTRIC IS200VCRCH1ABA NSPP IS200VCRCH1ABA
CORONA2 7030-0103
Returns: Accepted
Hitachi HITCPA221NM
GE FANUC A20B-2901-0941​/02A A20B-2901-0941 PCB
SIEMENS MOORE PRODUCTS 15704-61-4 P/S TERMINAL BRDNNB
GE FANUC HORNER HEMIX902A HEMIX902 NEW
GE Fanuc 90-70 IC697BEM731-J Genius Bus Controller 1 Ch PLC IC697BEM731J BEM731
QNAP TS-569 Pro 9TB (3 x 3000GB) Hitachi Consumer
MRV2/VID CMT/RGB
SIEMENS 6ES5 377-0BA31 6ES53770BA31
GE FANUC IC3600APAB1 USPP IC3600APAB1
FANUC A16B-1212-0210 MEMORY PC BOARD A16B12120210 A16B-1212-021 A16B1212021
GENERAL ELECTRIC IC3600KRSD2 NSPP IC3600KRSD2
586ITOX
QS440BXP
PCL-711B
GE Magne Blast Type AM-4.16-250-8H circuit breaker
IAC-F688C
GE Fanuc Telum 624-TEJ QUAD Interface PCIe
GE Fanuc I/O Module Board No. A20B-1002-0680​/04A Used Machining CNC Control ??
STANDARD COMMUNICATIONS CELLULAR MODULE CMM7700-311
FANUC A20B-0007-0750​/07B CIRCUIT BOARD A20B0007075007​B NAKAMURA REVISED B
SIEMENS Simodrive / Sinumerik E52930-A3210-C​5-B1 Board.
GE FANUC IC693APU300J COUNTER MODULE HIGH SPEED COUNTER